69 Years — Still in Love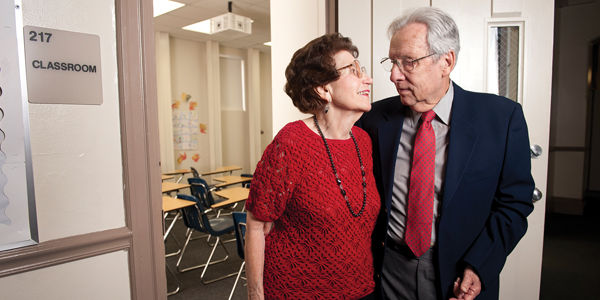 In 1946, Milton "Mits" Zamore '50 found himself on the second floor of Plant Hall looking for a girl named Fannie Rosenberg '50. A World War II veteran, Mits came to UT on the G.I. Bill and had started the semester a bit late. Discovering he had a test in just a couple of days, he needed some help to catch up. He was advised that if Fannie happened to be taking the class, she would have good notes.
To this day, they still debate whether Fannie turned right or left down the hall as she came out of the classroom. Details really don't matter. Mits saw Fannie and was smitten.
"When I saw her, she was the most delicious looking girl I had ever seen … still is," he said.
Sixty-nine years, two daughters and several grandchildren later, Mits and Fannie are still in love - with each other, with life and with UT.
"Of course there is the sentimental connection," Fannie explained. "The University of Tampa is where Mits and I met. It was a wonderful time in our lives. The education offered, the connection to fellow students from all over, the exposure to knowledgeable professors and the extracurricular activities, all of this contributed to the formation of our characters."
Both Mits and Fannie attribute their success in life to outstanding faculty members who influenced their career paths.
"My favorite faculty member was LeRoy Smith," Mits remembers. "He was an economics professor and taught me accounting. This was a great aid in my future jobs."
Mits' career included positions in accounting, sales, marketing and real estate. Fannie earned her degree in elementary education and taught in Hillsborough County schools for
nine years.
"There were a few professors I enjoyed. Dr. Douglas Angus, the English professor, really encouraged his students to write. Roy McGillivray was fun," said Fannie. "I also loved theater. We put on The Merchant of Yonkers at the Federated Women's Club. It was directed by Mr. Brad Crocker, our teacher, and the costumes came from New York. We were first class."
Fannie also remembers her Alpha Gamma sorority, formal dances, homecoming parades, hayrides and exciting basketball and football games.
"When I had time between classes, I liked to sit on one of the wooden tree-like benches that were in the alcoves down the long hallway to what was our library. That is now Fletcher Lounge," she said.
A highlight of Mits' years at UT was a trip to New York City with a side stop in Washington, D.C., with four of his best friends - Joe Russo '50, Victor Leff '49, David Baskowitz '49 and Jack Cartlidge '49 - all of whom were World War II veterans.
"We thought we would take the opportunity to thank President Truman for the G.I. Bill," Mits said. As it turned out, the president was in Canada so Florida Sen. Claude Pepper was notified and met the group on the Capitol grounds.
"I will never forget that great adventure or forget my dear friends," said Mits.
Mits and Fannie will never forget UT either. They have made provisions in their estate plans for the University.
"Those of us who benefitted from not only this education, but also from this environment, should want to help others have this UT experience," Fannie said. "We want others to have the opportunity we had - to attend a wonderful university that offers an excellent education in a nurturing environment."
Donor Stories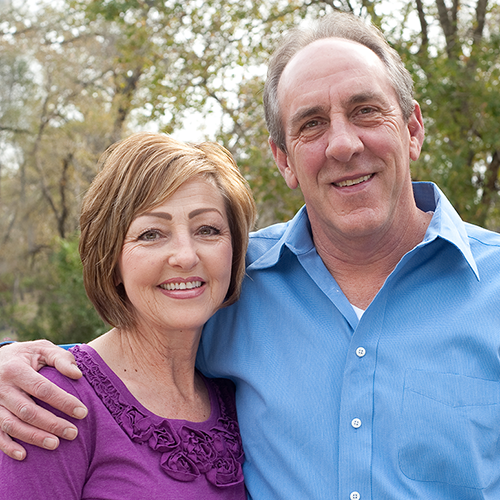 You may be looking for a way to make a significant gift to help further our mission. A bequest is a gift made through your will or trust. It is one of the most popular and flexible ways that you can support our cause.
Read Donor Stories